WILDFOX

EVENTS
DAVID FOX-PITT

MOTIVATIONAL

SPEAKER
DAVID FOX-PITT

STORY TELLER

POSITIVEROSITY
DAVID FOX-PITT

INSPIRING

YOUNG PEOPLE
DAVID FOX-PITT

PENNY FARTHING

ENTHUSIAST
DAVID FOX-PITT

WILDFOX

EVENTS
DAVID FOX PITT

MOTIVATIONAL

SPEAKER
DAVID FOX PITT

STORY TELLER

POSITIVEROSITY
DAVID FOX PITT

INSPIRING

YOUNG PEOPLE
DAVID FOX PITT

PENNY FARTHING

ENTHUSIAST
DAVID FOX PITT
David has been enthusing and inspiring people for over thirty years. As the Founder of WildFox Events Ltd he's not only been creating ambitious, world-renowned adventure challenges for over twenty years raising over £40 million for charity but he's been the energy behind scores of micro adventures and local community projects in Scotland as well as further afield. He initially struggled as a school leaver to find direction so he is particularly proud to be an advocate for youth projects supporting young people who lack confidence and direction.
David is passionate about motivating people to challenge themselves to find their unique life purpose and to live fulfilled, positive lives. His own experiences include many endurance challenges in wilderness locations which he often uses to illustrate his talks. WildFox Events has been built on encouraging people to dig deep and participate in such events but he equally accepts that every individual has their own motivations, objectives and challenges.
David is acutely aware that without adequate support and encouragement young people (as well as many older ones too), especially those from challenging backgrounds or with physical or mental health issues, are often denied the chance to develop their full potential and grow their self confidence. He aims to make a difference by engaging with society on an individual, national and global level through encouragement and positiverosity (David's word for positive attitude and generosity).
David is also campaigning for us all to disconnect from digital and get some outside time every day to reconnect with nature, our creative thought and each other. He sees the need for us to prioritise being present in the 'here and now' which is so often disrupted by our digital lives. Find out more about this at www.wildtimeoffline.
David lives on the shore of Loch Tay, Highland Perthshire with his wife Jo and their three children. Jo worked in Property Management and Public Relations before joining David to develop their business WildFox Events.
David likes to make things happen. His mission is to transform lives by inspiring others to embrace the power of 'Positiverosity' and adventure. He encourages finding space each day to reconnect with nature. He is especially passionate about supporting young people and all those seeking direction because he remembers leaving school and struggling to find purpose. David has recently launched the Wildtime Offline campaign which aims to mobilise 1,000,000 people to intentionally disconnect from digital for a minimum of 30 minutes a day. David knows that meaningfully reconnecting with nature and each other must be prioritised for the sake of society's physical and mental wellbeing.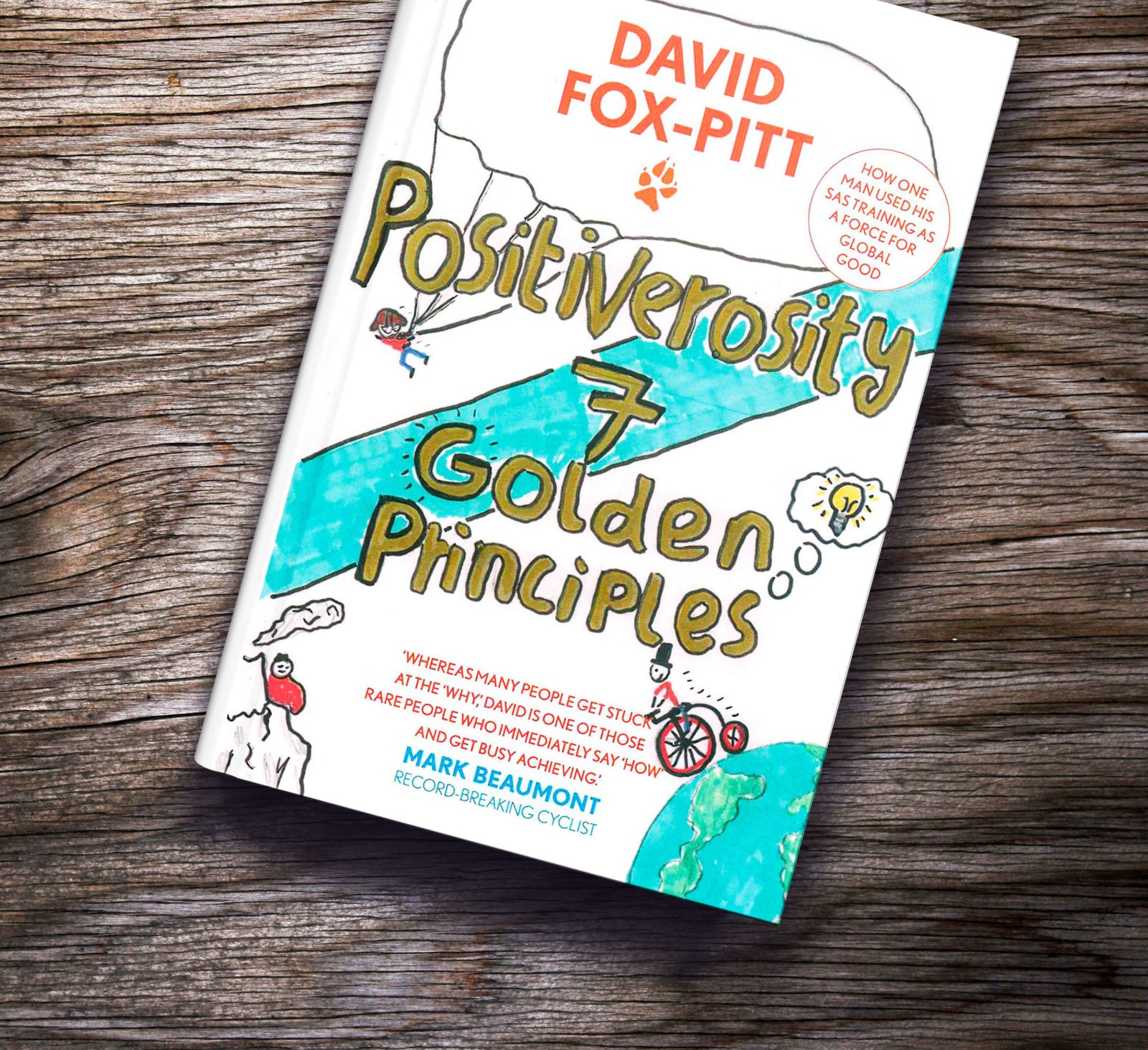 Positiverosity
With our world of increased uncertainty and insecurity as the backdrop, through his book Positiverosity, David Fox-Pitt seeks to inspire positivity, motivate ambition, embrace failure, bulldoze inertia and decimate indecision. He does this using his infectious capacity for enthusing others with his positive energy and the application of effort.
Get Social
This error message is only visible to WordPress admins
There has been a problem with your Instagram Feed.
Kind Words
"I had the pleasure of having David share his experiences and outlook on life with my leadership team. David has a poignant and entertaining way to tell his stories, making them relevant for everyone regardless of background and professional experience. The philosophy of approaching day to day challenges with determination and "positiverosity" resonated well with the team, and left them inspired and encouraged to continue on the journey I started with them".
'David's informative and energetic speech left our colleagues inspired to lead not only more positive lives, but healthier ones too, both in the workplace and personally. David's fascinating story motivated us all to look at what we can do to help others and has already inspired our team to begin a walking challenge for charity'
"Muirhouse Youth Development Group staff and young volunteers plan and deliver their annual flagship 'Youth Work Games' residential by the banks of Loch Tay… around 150 individuals – including circa 100 young people and 15 youth work organisations from across Scotland take part in multiple sporting and team building activities. David Fox-Pitt and Wildfox Events are vital partners during all stages of our Youth Work Games residential. David has… supported us for the past 8 years… it is very clear that David is very passionate about the work we do at MYDG and is a huge advocate for youth work and related fields… This is something young people look forward to each year and gain so much experience and positive memories from! We look forward to many more years working together! Thanks again!"
"David and Jo of Wild Fox Events have provided Inverleith LLP with two amazing Company off-sites so far. Our teams have enjoyed their wonderful hospitality in the beautiful Loch Tay surroundings. Being outside the office, with all its demands, allowed the teams to properly communicate on a hike; really get to know one another in team event; strengthen team bonds on a planning exercise and challenge themselves all within a fun and safe environment. The activities our groups undertook ranged from adventurous hikes up the Loch Tay munros to delicious black tie dinners and board room discussions. David and Jo are fantastic hosts, understanding all the needs of the groups. Despite a busy few days, the groups felt recharged and revitalised when they went back."