About
David Fox-Pitt MBE, Founder of WildFox Events Ltd, has created some of Scotland's most iconic adventure challenges and helped raise more than £40 million for causes world wide.  His flagship event The Great Kindrochit Quadrathlon has been going for over twenty years. Participants swim, run, kayak and cycle around Loch Tay all in aid of charity.
As well as organising large-scale adventure challenges he is an inspiring Motivational Speaker, facilitator of Bespoke Leadership Events for corporates; Adventure Days for schools and charities and Adventure Retreats for families. He has recently initiated a movement called Wildtime Offline which aims to highlight the importance of 'intentional screen-free time' (preferably outdoors and appreciating nature!) for our nation's general health and wellbeing. David is also the author of the acclaimed motivational memoir, Positiverosity. David lives on the shore of Loch Tay, Highland Perthshire with his wife Jo and their three children.  Jo worked in Property Management and Public Relations before joining David to develop their business WildFox Events Ltd.
WildFox Events
WildFox Events is the UK's original adventure challenge company. Founded by David in 1996, it embodies his infectious sense of fun that inspires people to action. As a pioneer in the adventure challenge industry WildFox Events has created some iconic endurance events in the outdoor events calendar. In all the events there is a common aim to 'finish the distance' and 'make an impact'. WildFox Events has to date raised over £40 million for charity.
Experience
As a young man David worked his way around the world; from driving a tractor in Australia to managing a private members club in Hong Kong; from working in a hotel in Palm Beach, Florida to helping a missionary in the Philippines. David has had many close shaves and these taught him to value life and make every day matter. From spending eighteen hours in a survival bag during a blizzard on an active volcano to being charged by an angry bull elephant, David knows how to manage risk, dice with danger and deal with failure. He put himself through selection for the Terratorial Army, both with the Paras and the SAS, which taught him much about himself and his own resourcefulness. His stamina and resilience perhaps in part stems from this survival training and all those who know David would attest that he epitomises "Who Dares Wins". In 2019, David cycled from Land's End to John o'Groats on his Penny Farthing which raised £25,000 for the charity Mary's Meals, providing school dinners for a whole year for nearly 2500 children. Why ride on a Penny Farthing? Because he wanted to test himself and above all he wanted to make people smile.
With an infectious sense of fun which breaks down barriers and motivates people to dig deep and aim high, David has the gift for inspiring others to surpass their own expectations. As a true pioneer for the adventure challenge industry, David's motivation is his commitment to make a difference and improve the lives and chances of others. The charitable element of his events is testament to this and in 2019, David was awarded an MBE for his contribution "to the adventure challenge industry and to charity". In 2020 David launched WildTime Offline, a campaign that seeks to redress the balance between the constant demands of today's digital bombardment and our innate need to be mindful, have time to think in solitude or just talk to those we love without interruption but above all to reconnect with ourselves and the natural world.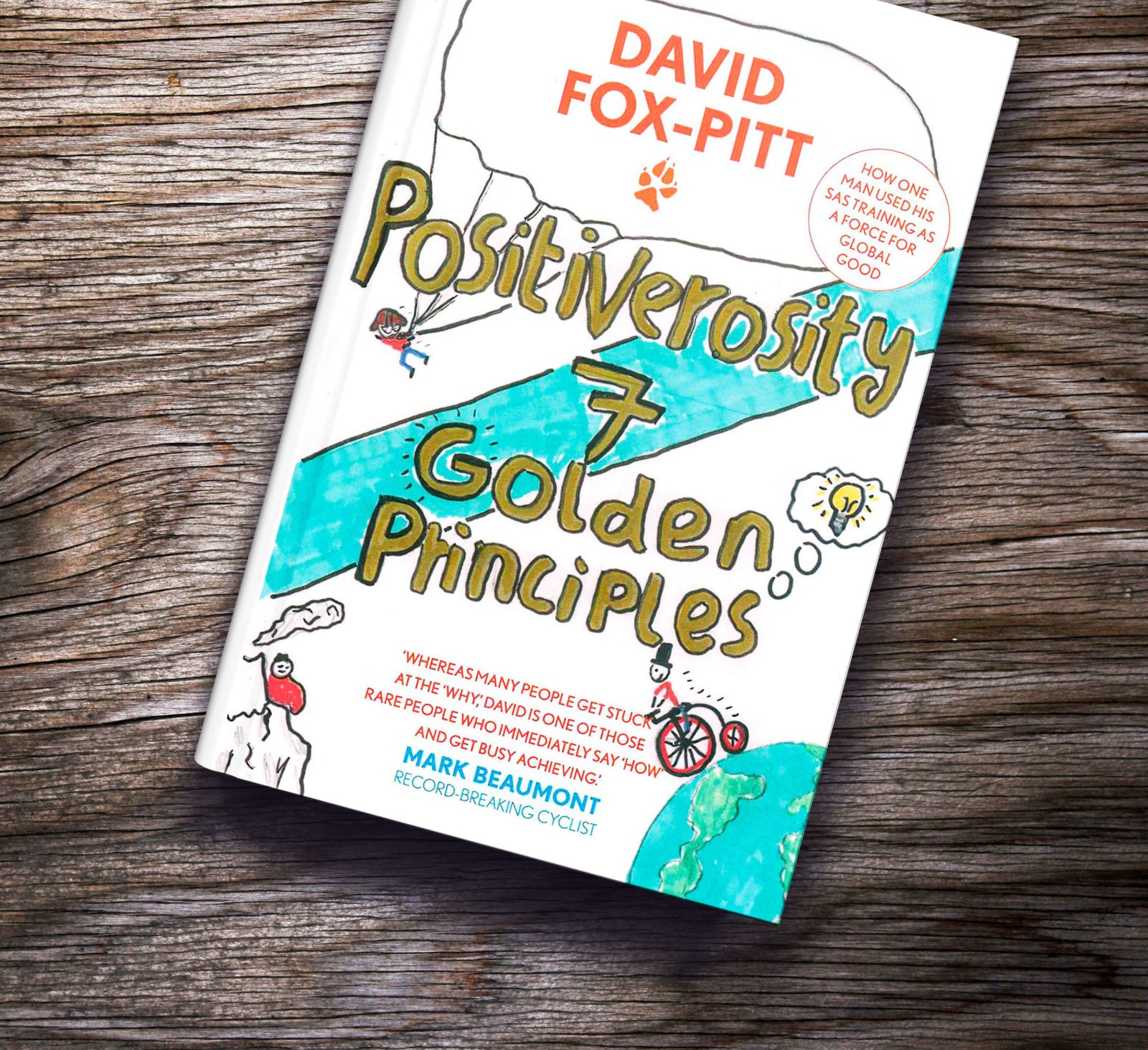 Positiverosity
With our world of increased uncertainty and insecurity as the backdrop, through his book Positiverosity, David Fox-Pitt seeks to inspire positivity, motivate ambition, embrace failure, bulldoze inertia and decimate indecision. He does this using his infectious capacity for enthusing others with his positive energy and the application of effort.
"I had the pleasure of having David share his experiences and outlook on life with my leadership team. David has a poignant and entertaining way to tell his stories, making them relevant for everyone regardless of background and professional experience. The philosophy of approaching day to day challenges with determination and "positiverosity" resonated well with the team, and left them inspired and encouraged to continue on the journey I started with them".
'David's informative and energetic speech left our colleagues inspired to lead not only more positive lives, but healthier ones too, both in the workplace and personally. David's fascinating story motivated us all to look at what we can do to help others and has already inspired our team to begin a walking challenge for charity'
"Muirhouse Youth Development Group staff and young volunteers plan and deliver their annual flagship 'Youth Work Games' residential by the banks of Loch Tay… around 150 individuals – including circa 100 young people and 15 youth work organisations from across Scotland take part in multiple sporting and team building activities. David Fox-Pitt and Wildfox Events are vital partners during all stages of our Youth Work Games residential. David has… supported us for the past 8 years… it is very clear that David is very passionate about the work we do at MYDG and is a huge advocate for youth work and related fields… This is something young people look forward to each year and gain so much experience and positive memories from! We look forward to many more years working together! Thanks again!"
"David and Jo of Wild Fox Events have provided Inverleith LLP with two amazing Company off-sites so far. Our teams have enjoyed their wonderful hospitality in the beautiful Loch Tay surroundings. Being outside the office, with all its demands, allowed the teams to properly communicate on a hike; really get to know one another in team event; strengthen team bonds on a planning exercise and challenge themselves all within a fun and safe environment. The activities our groups undertook ranged from adventurous hikes up the Loch Tay munros to delicious black tie dinners and board room discussions. David and Jo are fantastic hosts, understanding all the needs of the groups. Despite a busy few days, the groups felt recharged and revitalised when they went back."