WildFox Events is the UK's original adventure challenge company.
For over twenty years WildFox Events has been creating challenging ways for teams and individuals to test stamina, stretch horizons and exceed expectations. This is the stuff memories are made of.
We aim to deliver demanding and highly rewarding endurance events in a variety of stunning locations. Not only are our Events a hugely enjoyable way to get fit and stay healthy, they are ideal for personal development, making friends, and as a focus for fundraising, team-building and networking in general.
Whether you are entering as part of a corporate team, as a bunch of friends or (for some events) as an individual participant, we are here to help you with any questions you may have. At your request we will arrange a presentation to your team with tips on training, preparation and fundraising.
We have worked with many companies and charities over the years so if you would like us to facilitate a new event on behalf of your organisation we would be available to assist you from the earliest discussions to planning and resourcing your event, managing online registration, participant communications and delivering all the logistics on the day.
Having been established for many years, we have a host of third party partners who can provide experienced event marshals, medical support personnel, caterers and so forth. Our events are a fantastic way to enhance corporate team building, staff morale, cross-divisional networking and staff retention. With lots of well known corporates entering teams it also offers opportunities for business networking. Invite key suppliers or prospective clients to join your team?
Our events also represent excellent value for money compared to the more traditional team building options and there is the added bonus that they can be used as a vehicle to meet your objectives for charitable fundraising and corporate social responsibility. In a world where face-to-face meetings aren't always easy it's a chance to re-connect with each other and with wild open spaces. As campaigners for WildTime Offline we strongly believe this is vitally important for both business and personal wellbeing. Taking part alongside your teammates will truly be a breath of fresh air…and you'll have a blast.
David Fox-Pitt MBE is the driving force behind WildFox Events. Find out more about David HERE
WilldFox Events have always believed in the power of giving. Most of our events have a charitable element and this makes participating all the more meaningful and rewarding. We are proud to have raised over a staggering £40 million for good causes since 1999. Please send an email to info@wildfoxevents.com for more information about how our events are helping make the world a better place through charitable giving.





WilldFox Events is all about raising money for exciting charities that help others in the UK and all around the world. We are proud to have raised a staggering £30+ million for good causes since 1999. Please send an email to info@wildfoxevents.com if there is a charity that you would like us to consider supporting. Some of the charities we have supported are listed below.





"David has an infectious sense of adventure, a selfless community spirit and a fire in the belly that gives everyone around him the belief in their dreams. Whereas many people get stuck at the 'why,' David is one of those rare people who immediately say 'how' and gets busy achieving. I've purposefully spent as much time as possible with David over the past decade, because in a world of doubters and set-backs, he shares my desire to step out and do things differently. Speaking selfishly, it serves you well to surround yourself by 'Can Do' people."
"A great man who continues to do so much to encourage adventure in young people in the UK!"
"My cousin David is the most extraordinary force. His positivity runs through every vein in his body. His energy, combined with his brilliant unique imagination has led him to create fantastic events that provide challenges and fun for the participants but also raise millions for good causes. The most amazing thing is that he never sets a challenge that he wouldn't do himself. When you are with him you feel that nothing is not possible."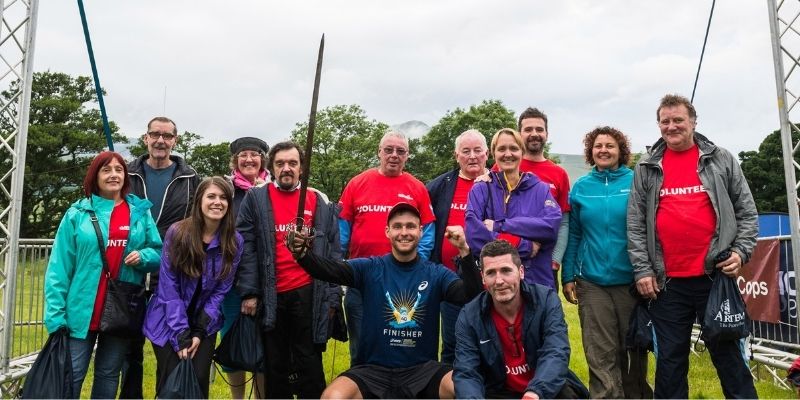 We are always on the look out for enthusiastic volunteers to help us with our events.
Volunteers make a huge difference to the smooth running of our challenges, whether it is by checking in participants, helping at our food and water stations, or boosting the flagging spirits of participants with a smile and a wave.
Volunteers also get a lot out of taking part. Maria-Paz Fernandez, who helps every year at the Rob Roy and Quadrathlon events, commented: "It is amazing to see so many people taking on WildFox challenges and the atmosphere at their events is always upbeat and inspiring. People from Wild Fox Events are always around for anything and they are very friendly."
As well as having a huge amount of fun, our volunteers love to help WildFox Events raise money for good causes. "All these crazy people are participating in the race to achieve something, to go to the limit and have fun but at the end of the day it's to raise as much as we can to help others," said Maria.
Please contact us on 01567 820 409 or info@wildfoxevents.com if you are interested in joining the team at one of our events.
Clients
We are immensely grateful to all our sponsors.  Their generosity enables our participants to raise hundreds of thousands of pounds for charity, every single year.
We are always keen to speak to new sponsors.  If you are interested in sponsoring or sub-sponsoring an event then please get in touch on 01567 820 409 or email info@wildfoxevents.com

Get In Touch
Visit our Contact page or for the old fashioned way, see our details below:
Office Tel: 01567 820 409 | info@wildfoxevents.com
David Fox-Pitt Mobile: 07710 446332 | Jo Fox-Pitt Mobile: 07833 917072
Wild Fox Events HQ is our home, Kindrochit Farm, on the southern shore of Loch Tay in Highland Perthshire. The office looks straight out across the shimmering waters of the Loch and onto the stunning Ben Lawers mountain range. There can't be many offices out there where in the winter staff occasionally skin up the slopes during their lunch break and ski back down for an afternoon's work. From the spring, Kindrochit is buzzing with teams training for the Great Kindrochit Quadrathlon – the event kicks off on Loch Tay's southern shore.
This area of Highland Perthshire is renowned for its outdoor activities and is fantastic for kayaking, river rafting, cycling, hill walking, horse riding and climbing. You can also chill out visiting galleries, castles, bookshops and cafes. As well as organising big adventure challenges we are happy to arrange micro adventures for smaller groups. We are within two hours drive of the central belt and there is a variety of accommodation available in the area. We have our own self contained twin bed flat at Kindrochit Farm, access for camping by arrangement and there are a choice of larger hotels and holiday cottages all within 30 mins drive. We have plenty of equipment here on-site such as kayaks, archery, paint-balling, small tents to large marquees as well as thousands of acres of wilderness on our doorstep. Contact us to arrange an activity away day or a short breaks.
We look forward to meeting you. Let your adventure commence.
WildFox Events
Kindrochit
Ardtalnaig
Perthshire
PH15 2HX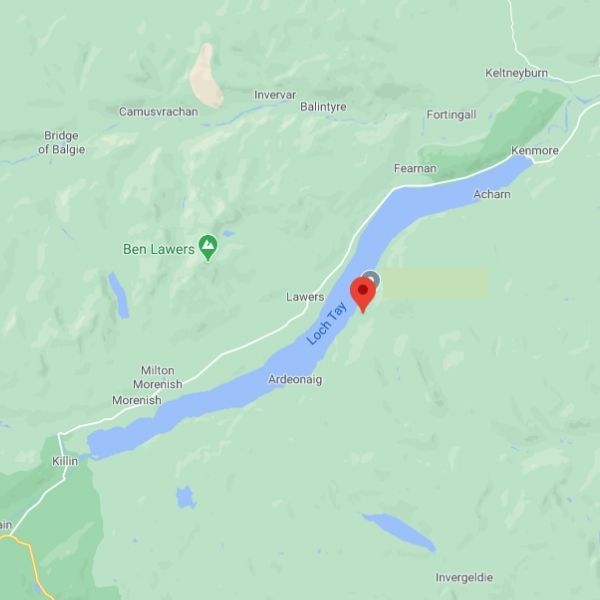 How do you get to us?
From Aberfeldy travel to Kenmore and take the road along the south side of Loch Tay. Kindrochit is 6 miles along the road just after the small hamlet of Ardtalnaig.
From Killin, by the Falls of Dochart, take the road along the south side of Loch Tay. Kindrochit is 9 miles along the road after the Ardeonaig Hotel and just before Ardtalnaig.